Discover a new profession!
A very convincing testimony
"…the pedagogic impact of the image is potentiated by an exhaustive comment of extreme precision. In short, I can but recommend this unique pedagogic tool without restriction to all practitioners interested in using an OM in omni-practice, but who so far hesitated to jump ahead!"
read more…
Pr Pierre Machtou, DDS, MS, PhD
Why work with a microscope?
The operating microscope (OM) is not restricted to endodontics, nor is it an instrument only designed to search for the entrance of the canals or to check the quality of a preparation. It can be used permanently in omnipractice and replaces the use of magnifying glasses in a very favorable way. The fatigue of your eyes when focalizing (with or without magnifying glasses) disappears with the microscope because the eyes look at infinite and can rest in an operation field, which is always perfectly lit without any shade.
The magnification trough the eyepiece gives you an extraordinary vision in 3D, which allows you to improve the precision and the quality of your work, and therefore to increase your satisfaction. The more, you eliminate the toxic positions of your spine; the microscope imposes a physiological position, which often relieves from spine problems of which many dentists suffer.
Adding a camera to the OM with a screen for the patients allows an unequaled communication with them and their accompanying persons. All the explanations become clearer.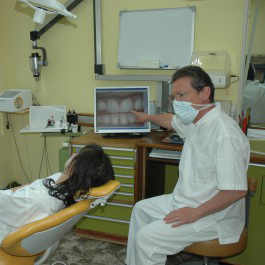 How to choose your microscope?
Counseling
Judicious advice by a colleague concerned with helping you to make a success of your approach will be precious. In this new world of micro dentistry, it is not easy to make a choice among the vast range of microscopes and accessories on the market. This choice must be tailored to the needs and adequate for each practitioner and office. Together, we can find the equipment, which will give you satisfaction. A study on site or on blueprint of the structure of your treatment room, taking into account your habits, will allow you to decide on the best choice of the space and the fixing of your microscope.
Coaching
If you wish, you can get a few hours of coaching on your personal difficulties, which will allow you to quickly make a full use of all the possibilities the operating microscope offers to a general practitioner.
Sample videos
Videos executed with a microscope showing the possibilities of information and communication: