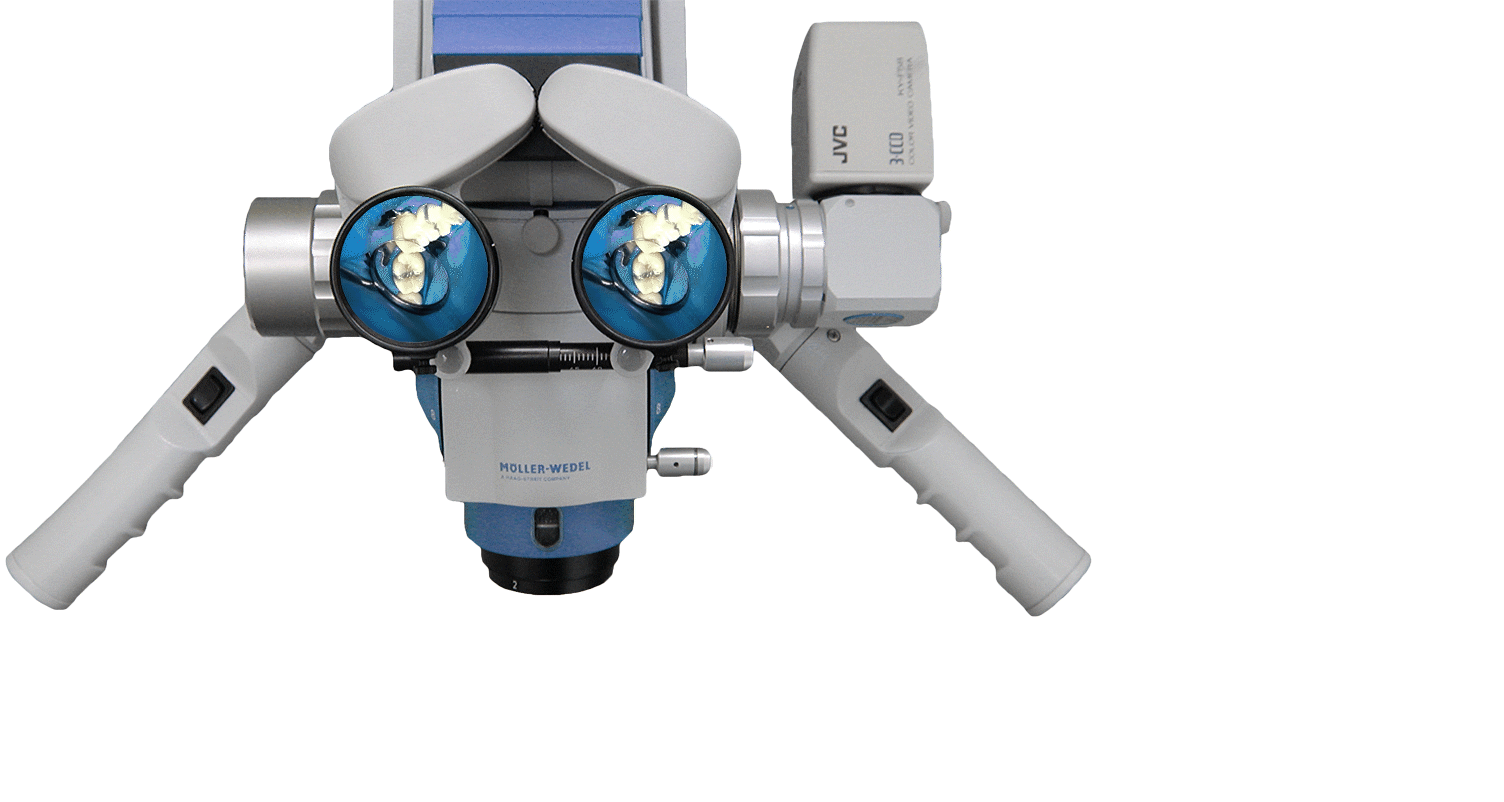 You're a dentist and you want to:
Be the best specialist in your field
Provide patient care at the highest level
To learn new technologies and to get acquainted with new methods of treatment
Earn more
Our course is the answer to all your questions
Our lessons are a course for General dentists
After passing our video course of the microscope for dentists, you will improve your skills and begin to help patients at a higher level
You're a dentist and you aim to:
Optimize your magnification to get the best possible vision
Maximize your precision
Differentiate yourself from other dentists in your area
Be the best specialist in your field
Provide patient care at the highest level
Learn new technologies and to get acquainted with new treatment methods
Increase your earning capacity
Our course is the answer 
Our courses are adapted to meet the need of all dentists including recently graduated generalists up to and including the most seasoned specialists
After passing our « microscope for dentists » online video courses, you will immediately see the positive impact on your skills and attention to detail. Most of all, you will get the immediate reward of positive patient feedback as you elevate their care to the next level!
who are we?
Microscope courses for dentistry
First and foremost, we are dentists! As early adopters of OM technology we have distinguished ourselves as experts in the domain. With over 20 years of experience using microscopes in general practice dentistry, we have been invited to lecture at universities around the globe, helping students as well as established practitioners adopt this pioneering technology. We have now taken our extensive expertise and condensed it into a unique course that will take you from novice to professional, so that you to feel comfortable with your investment in a dental microscope in your own practice. With clear video tutorials, you will get all of the information needed to purchase and use your dental microscope in a clear and concise format, adapted to the busy schedule of the dental professional.
practice
Advices from a practicing dentist
setup
Step by step demonstration on the basics and getting started
usage
Detailed video tutorials with analysis of practical tasks
Microscope for General dentists
Learn how to practice your lectures
Unlimited access to our VIDEO library
Learn where and when it's convenient for you
course program
First module
introduction
microscope presentation 
first steps
working with 4 hands
indirect vision
lateral inclination
approaches for complete visual access 
course program
Second module
class V restoration on teeth #14-15
MO restoration on tooth #26
DO restoration on tooth #36
a crown on tooth #46
Why us?
Advantages of our microscope course for dentistry
Microscope-dentist.com has taken in-practice simulation online and condensed it into well edited videos so that you can learn the skills you need conveniently, at your pace, when and where you like. Our online videos will provide you with all of the tools you need to feel comfortable with your microscope and to optimize your investment, without having to give up valuable chair-time in your practice or take off work days for continuing education. Microscope-dentist.com brings the information directly to you!     
phased approach
We will go through each step of the process, from choosing the device best adapted to your needs, to the mastery of its practical use
material quality
Our videos were purpose-made for dentists like you. We have taken great care to maintain excellent image quality while ensuring that all the doctor's manipulations remain clearly visible, so that you can follow the step by step commentary
informative
The course highlights the most common questions that arise from when a dentist is contemplating buying a microscope to when he or she begins implementing its use
practical work
The training takes place with the analysis of the most frequently encountered realworld  examples
clear vision
Unique process display system on three screens
The dental microscope can provide not only photography & recording but also measurement, contrasting and many more functions adapted for your particular needs.
usability
You can easily add up to 3 devices to the microscope: phone, tablet and screen
Better Communication
External output devices will allow you to present the treatment process in three possible directions so that your assistant, the patient and a parent or accompanying person can all witness the care being provided. This application of the technology has proven to be especially useful in pediatric dentistry, helping explain and share the treatment process with parents or caregivers
save & share
During any stage of the treatment, you can record a video or snap a photo of the process in one click. These files can then be easily shared to facilitate communication with doctors or clinics participating in the patient's treatment plan.
The ideal educational platform
Do you teach students or do master classes for dentists? These tools will allow you to display all of your unique processes and techniques on a widescreen to your students, enormously enhancing the quality of your own didactic courses Everyone will see even the most delicate details of your work interference
Purchase a course
Here you can buy parts one and two of our unique video courses
Join the course
Two blocks of training at the same price

Learning from mobile devices

Unlimited annual access

Language: English and French

Secure payment via PayPal
• You get record-breaking video access. The key to the lessons will be available to you for one year, allowing you ample time to complete all the coursework. Missed something the first time through? Don't worry, during this period you can view and review classes as many times as you like.
• We offer the best price relative to the cost of an average live training session, and because our online learning tools are available at your convenience, we won't take away from your valuable chair time!
Pay for the course and get unlimited access to video tutorials for 365 days!
author's video course
Dr. Denis Honegger
Denis Honegger studied and obtained his doctorate at the world-renowned University of Geneva Dental School, in the French-speaking region of Switzerland.
In 1999, he became an early adopter of dental microscopes in their application in general dentistry. He began using a microscope continuously for all his generalist acts.
Convinced by the amazing benefits of this approach, he began lecturing in Switzerland and abroad, inviting his colleagues to adopt the microscope in general practice.
As pioneers in a new field often do, Dr. Honegger had to work hard on his own to figure out how to best adapt the technology in this new application. At the time, only endodontists were using MOs. After years of experience working out the quirks, he realized that he had developed a unique skill set that would lower the barrier of entry for so many other practitioners.
In 2014, after gathering up the myriad tips and tricks he learned or developed himself, he began carrying out practical teaching videos on microscope use. He made note of everything he wished he had known back at the start of this journey.
These 3 hours lessons will allow you to work with the same ease shown in his videos.
…the pedagogic impact of the image is potentiated by an exhaustive comment of extreme precision. In short, I can but recommend this unique pedagogic tool without restriction to all practitioners interested in using an OM in omni-practice, but who so far hesitated to jump ahead!.
Exercise under a microscope assumes 1 complete change in the operative technique and its working position.
2 solutions: either do it without tutorials and risk getting discouraged quickly or watch the videos of Dr Denis Honegger that offer you a simple, pedagogical and effective approach.
All working positions are detailed with the help of clinical examples, they will allow you to methodically discover the wonderful world of Dentistry under a microscope.
I am not surprised that Dr Honegger would produce such an impactful and wonderful learning tool. This methodical video course covers all of the essentials in a clear, comprehensive, and easy to understand fashion. It is the best and most useful video course by a master and pioneer in Microscope Dentistry.
There is no doubt that the use of an operating microscope in dentistry allows an immediate upgrade in quality and accuracy of care. But at a time when the most common tendency is to experiment with the use of new material rather than learn how it works optimally, the use of the microscope is not always widespread in the dental community. As such, Dr Denis Honegger'S VOD is a remarkable method and detail teaching tool for getting acquainted with the use of the microscope. Recommend without hesitation and use without moderation.
Dr Denis Honegger, a pioneer of microscopic dentistry, has my sincere admiration for his meticulous analysis of the micro-ergonomics of working under the microscope.
His video training on DVD is the most comprehensive and useful ever realized.
Effective and pragmatic training.
The trainer is very pedagogical. We learn quickly thanks to his expertise and pedagogy.
This one-of-a-kind training provides confidence and the certainty of getting there on your own.
Clarity of explanations regarding the use of the dental microscope in omnipractic.
I will definitely recommend it.
When the technicians installed my Microscope in 2017, I admit that at the time I had no idea how to use it, to the point that I even wondered after a few days of use if it was the right decision to have made this investment, but I wanted at all costs to learn how to use it.
Very fortunately that I found fortuitously on the net a complete training, it was a workshop of very high qualities in VOD of initiation and training to work under a microscope for dentists, this complete training accompanied me during my first steps.
Your VOD has been a great help to me, and I cannot thank you enough, Dr Denis Honegger. Thank you for your generosity, Dr Mohamed Saad El Hachem.
blog
Why is a microscope important?
You may feel that you are doing a great job without a microscope. But you can only see the difference by comparing the two ways of working. The main advantages of magnifying equipment:
1. Maximum information. The difference between visual inspection and inspection with a microscope is enormous. You will have extensive, detailed information about the patient's oral health. This will help you make the right decisions and offer the best treatment options.
Grand-Montfleury 54, 1290 Versoix, Switzerland
microscope.dentist@gmail.com